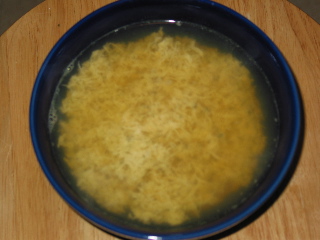 | Amount | Measure | Ingredient |
| --- | --- | --- |
| 2 | cups | water |
| 1 | tsp | Chicken Soup Base |
| 1 | tsp | Vegetable Soup Base |
| 1 | dash | Tabasco |
| 1 | large | egg |
| 1 | dash | garlic |
| 1 | dash | marjoram |
| 1 | dash | oregano |
The amounts above are for one serving. Multiply as needed. (A dash isn't quite an 1/8 of a teaspoon.)
Combine water and soup bases and tabasco in a soup pot.
Bring to a boil.
While waiting for broth to boil, break egg into another dish, and beat well.
Add garlic, marjoram, and oregano to egg, and mix well.
Right as broth starts to boil, stir in a constant motion while slowly pouring in egg.
After all of the egg is in, let just come to a boil.
Then remove from heat and serve.